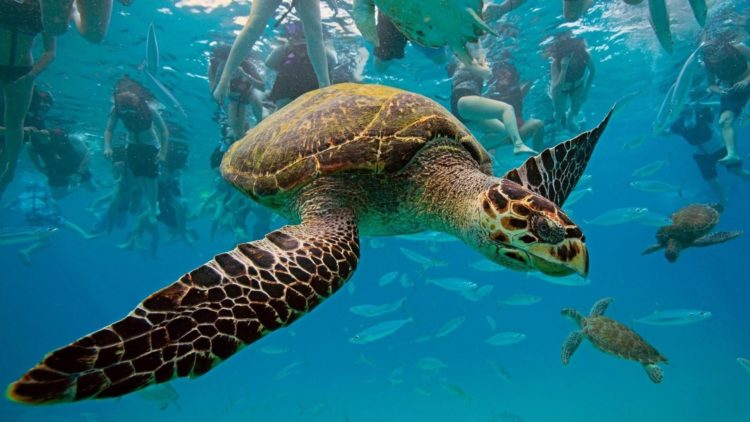 Here at Hanauma Bay Snorkel Adventures we are complete snorkel enthusiast, snorkel nerds really. And it's easy for us to assume that you all love snorkeling as much as we do. But if we're totally honest, most of the world hasn't even give two thoughts to giving snorkeling a try. If you're on the fence on whether you'd even want to try snorkeling, let these six reasons convince you that snorkeling is always a good idea. Who knows – by the time you're done reading the post, you may have your bags packed and your snorkel face on.
IT'S AN UNDERWATER EXPERIENCE
Ever wondered what it feels like to be underwater? Let us tell you – it feels as if you were flying. Sure, we've never flown before, but, being underwater has you feeling as weightless as weightless gets. Once you've mastered your breathing and your buoyancy control, you will feel as if your body is levitating.
THE CORAL REEFS ARE BREATHTAKING
Brain-like coral, mushroom coral, noodle coral, fan coral, the list goes on and on. Coral reefs are some of the most diverse ecosystems in the world, housing thousands of marine species! Be prepared to be amazed by the many shapes, colors and textures of coral reefs.
ALL THE FISH
At Hanauma Bay alone you are guaranteed to see more than one hundred different fish species. Some travel in schools and others alone. You will be familiar to some fish while others will complete take you by surprise.
IT'S GOOD FOR YOUR HEALTH
Yes, snorkeling is a lot of fun, but it also helps to improve breathing patterns and serves as a decent cardio exercise.
NO EXPENSIVE EQUIPMENT REQUIRED
At the very minimum, a face mask and a snorkel are the only two pieces of gear required to adventure underwater. We recommend fins if you plan to snorkel in an area where the currents are strong.
CONNECT WITH NATURE
By the end of your snorkeling adventure, you will have realized how beautiful and peaceful the ocean truly is. We're convinced that you will fall in love with the ocean and leave with a better understanding of why it's so important that we take care of it.
There you have it – six reasons to give snorkeling a try. Here at Hanauma Bay Snorkel Adventures, we offer transportation and gear rentals to make your experience that more enjoyable! May the new year bring you a new hobby – SNORKELING! Mele Kalikimaka and Hau`oli Makahiki Hou, Merry Christmas and Happy New Year!