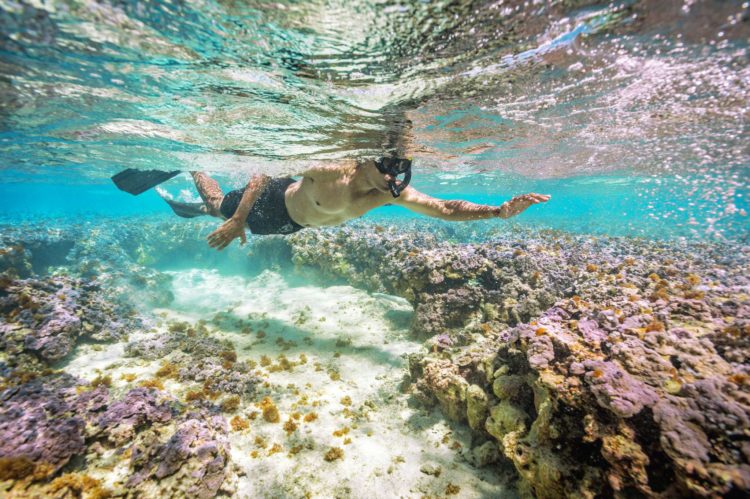 Snorkeling is a sure way for travelers to experience the best of all worlds. The relaxing hobby offers beautiful, vibrant seascapes without the costly gear and training that scuba diving requires. Naturally, we are huge snorkel enthusiasts and want to ensure everyone's snorkeling experience goes as smooth as possible. Below are six tips we find are helpful to both beginner and advanced snorkelers.
Lather up: Sunburns can be very damaging to our bodies and deliver both immediate and long-term effects. We recommend applying an SPF 30+ before starting your underwater adventure.
Floating around:If you don't have the stamina to stay in the water for a long time, consider using a float jacket. They're also very helpful in snorkeling spots where currents can be swift.
Hydrate:Most snorkeling adventures take route in places where the sun is strong and dehydration is common. Even if you're immersed in water, its salt content will drain your skin of its moisture. Be sure to bring a water bottle on your excursion.
Keep your distance: Give marine life their space, remember you are in their home. Maintain a safe distance from both the animals and the coral reef and do not touch.
Steamy moments: Snorkeling masks fog up because there is (usually) more heat on the inside of the mask as compared to the outside. To prevent some degree of fogginess, rub saliva onto the inside of your mask before rinsing and proceed to positioning it on your face.
Don't be touchy:Resist the temptation to pocket a pretty souvenir shell or seemingly dead sea star—it's not ecologically sound, and it could even be illegal.
We hope these tips help to create a more memorable snorkeling excursion. Here at Hanauma Bay Snorkel we're advocates for experiencing the underwater world at least once in your life. Be sure to give us a call or schedule a reservation right here on the website to book an adventure with us!